About Us
Indian Ocean is a Indian takeaway in Loughborough. Why don't you try our Vegetable Starter or Rogan Josh?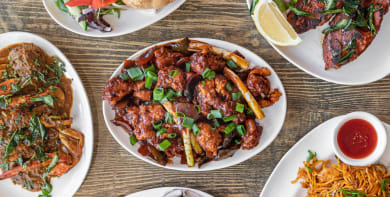 Reviews
83 reviews
Deborah
"Perfect"
19/06/2021
Dolores
"Very tasty"
19/06/2021
Natasha
"Foods always tasty service is always great and always get baby onion bhajis free"
06/06/2021
emma
"Absolutely beautiful, very large portions very tasty not one fault and freebies 😋 😀 😊 😉 😄"
21/04/2021
Menu
Coca-Cola Original Taste 330ml Can
£1.00
Vegetable Starter Onion Bhaji
£2.40
Vegetable Starter Vegetable Samosa
£2.40
Vegetable Starter Garlic Mushrooms
£2.45
Vegetable Starter Aloo Chaat
£3.15
Vegetable Starter Paneer Shashlik
£3.15
Vegetable Starter Chilli Paneer
£3.50
Seafood Starter Prawn Cocktail
£2.95
Seafood Starter Fish Pakora
£3.25
Seafood Starter Fish Tikka
£3.45
Seafood Starter Prawn Puri
£3.50
Seafood Starter King Prawn Butterfly
£4.25
Seafood Starter King Prawn on Puri
£4.25
Seafood Starter King Prawn Chilli
£4.45
Seafood Starter Tandoori King Prawn
£4.45
Non-Vegetable Starter Meat Samosa
Mixed kebab - chicken tikka, lamb tikka, seekh kebab with fried onions & coriander
Indian Ocean special - chicken tikka, lamb tikka, seekh kebab, onion bhaji
£2.40
Non-Vegetable Starter Chicken Chaat
Mixed kebab - chicken tikka, lamb tikka, seekh kebab with fried onions & coriander
Indian Ocean special - chicken tikka, lamb tikka, seekh kebab, onion bhaji
£2.95
Non-Vegetable Starter Chicken Pakora
Mixed kebab - chicken tikka, lamb tikka, seekh kebab with fried onions & coriander
Indian Ocean special - chicken tikka, lamb tikka, seekh kebab, onion bhaji
£2.95
Non-Vegetable Starter Hot Meat
Mixed kebab - chicken tikka, lamb tikka, seekh kebab with fried onions & coriander
Indian Ocean special - chicken tikka, lamb tikka, seekh kebab, onion bhaji
£3.15
Non-Vegetable Starter Seekh Kebab
Mixed kebab - chicken tikka, lamb tikka, seekh kebab with fried onions & coriander
Indian Ocean special - chicken tikka, lamb tikka, seekh kebab, onion bhaji
£3.15
Non-Vegetable Starter Shami Kebab
Mixed kebab - chicken tikka, lamb tikka, seekh kebab with fried onions & coriander
Indian Ocean special - chicken tikka, lamb tikka, seekh kebab, onion bhaji
£3.15
Non-Vegetable Starter Chicken Shashlik
Mixed kebab - chicken tikka, lamb tikka, seekh kebab with fried onions & coriander
Indian Ocean special - chicken tikka, lamb tikka, seekh kebab, onion bhaji
£3.25
Non-Vegetable Starter Chicken Tikka
Mixed kebab - chicken tikka, lamb tikka, seekh kebab with fried onions & coriander
Indian Ocean special - chicken tikka, lamb tikka, seekh kebab, onion bhaji
£3.25
Non-Vegetable Starter Jhal Tikka
Mixed kebab - chicken tikka, lamb tikka, seekh kebab with fried onions & coriander
Indian Ocean special - chicken tikka, lamb tikka, seekh kebab, onion bhaji
£3.25
Non-Vegetable Starter Tandoori Chicken
Mixed kebab - chicken tikka, lamb tikka, seekh kebab with fried onions & coriander
Indian Ocean special - chicken tikka, lamb tikka, seekh kebab, onion bhaji
£3.25
Non-Vegetable Starter Chicken Tikka Puri
Mixed kebab - chicken tikka, lamb tikka, seekh kebab with fried onions & coriander
Indian Ocean special - chicken tikka, lamb tikka, seekh kebab, onion bhaji
£3.35
Non-Vegetable Starter Lamb Shashlik
Mixed kebab - chicken tikka, lamb tikka, seekh kebab with fried onions & coriander
Indian Ocean special - chicken tikka, lamb tikka, seekh kebab, onion bhaji
£3.45
Non-Vegetable Starter Mixed Kebab
Mixed kebab - chicken tikka, lamb tikka, seekh kebab with fried onions & coriander
Indian Ocean special - chicken tikka, lamb tikka, seekh kebab, onion bhaji
£3.45
Non-Vegetable Starter Garlic Chicken Tikka
Mixed kebab - chicken tikka, lamb tikka, seekh kebab with fried onions & coriander
Indian Ocean special - chicken tikka, lamb tikka, seekh kebab, onion bhaji
£3.50
Non-Vegetable Starter Lamb Tikka
Mixed kebab - chicken tikka, lamb tikka, seekh kebab with fried onions & coriander
Indian Ocean special - chicken tikka, lamb tikka, seekh kebab, onion bhaji
£3.55
Non-Vegetable Starter Indian Ocean Special
Mixed kebab - chicken tikka, lamb tikka, seekh kebab with fried onions & coriander
Indian Ocean special - chicken tikka, lamb tikka, seekh kebab, onion bhaji
£7.95
Chicken & Lamb Shashlik (Dry)
£7.85
Tandoori King Prawn Masala
£9.95
Indian Chef Garlic Tandoori Special
Half tandoori chicken off the bone, marinated in garlic, coriander, ginger, onion & fresh tomatoes
£8.95
Rezala Chicken
Chicken cooked with minced meat, garlic, ginger, onion, garnished coriander
£7.15
Tikka Sil Silala Chicken
Tossed in lime & lemon  with crunchy onions, peppers with Northern Bengali spices
£7.75
Tikka Sil Silala Lamb
Tossed in lime & lemon  with crunchy onions, peppers with Northern Bengali spices
£7.75
Murgh Chilli Masala
Thin slices of chicken tikka marinated in garam masala & green chillies
£7.15
Handi Special Chicken
Tender pieces of chicken OR lamb cooked with onions, with aromatic flavours
£7.75
Handi Special Lamb
Tender pieces of chicken OR lamb cooked with onions, with aromatic flavours
£7.75
Achari Special Chicken Tikka
A delightful dish cooked with an Indian pickle to create a slight citrus taste
£7.45
Achari Special Lamb Tikka
A delightful dish cooked with an Indian pickle to create a slight citrus taste
£7.45
Lamb Chilli Pepper
Cooked with fresh garlic, onions, green chillies & tamarind sauce
£7.70
Saag Special Chicken
Fresh baby spinach cooked with herbs & spices, garlic, tomatoes & coriander
£6.95
Saag Special Lamb
Fresh baby spinach cooked with herbs & spices, garlic, tomatoes & coriander
£6.95
Garlic Chilli Chicken
Chicken marinated in garlic, cooked with green chillies & extra fried garlic
£7.15
Chicken Tikka Naga
Chicken tikka cooked with onions, peppers & Bangladeshi naga chilli sauce
£7.95
Tandoori Chicken Makhani
Chicken tossed in butter with fresh cream, coconut in an exotic mild sauce
£6.95
Raj Chingri Jhol
King prawns cooked in Bengali style with spices
£9.95
King Prawn Puri
Traditional Bangladeshi classic king prawns & green beans slow cooked
£9.95
Fish Jalfrezi
Bengali fish heavenly spiced & cooked with green chillies
£8.95
South Indian Garlic Chilli Jhinga
Cooked with fresh garlic, ginger & king prawn
Medium spicy hot
£8.95
Bengal Fish Bhuna
Cooked in medium bhuna sauce with onions, green peppers & chillies
£7.95
Bombay Chicken
This dish is cooked in medium spices with yoghurt garnished boiled egg & coriander
£7.95
Sylheti Shatkora Chicken Tikka
Tender lamb OR chicken breast, cooked with citrus fruit, onions, garlic & coriander
£7.75
Sylheti Shatkora Lamb Tikka
Tender lamb OR chicken breast, cooked with citrus fruit, onions, garlic & coriander
£7.75
Mix Seafood Tawa
Prawn, king prawn, fish fillet cooked in tomatoes, onion & unique spice
£9.95
Tikka Peri Peri Chicken
Chicken OR lamb cooked with onions, peppers, garlic & coriander
£7.95
Tikka Peri Peri Lamb
Chicken OR lamb cooked with onions, peppers, garlic & coriander
£7.95
Hot Magic Curry
Chicken cooked with fresh Bengali naga chilli, very hot
£6.95
Jeera Chicken
Chicken cooked with fresh garlic & ginger coriander, medium spice
£6.95
Mango Chicken
Chicken cooked with fresh mango pulp, sweet dish
£7.25
Curry (Medium) Mushrooms
With basic spices with plenty of sauce
£5.95
Curry (Medium) Vegetables
With basic spices with plenty of sauce
£5.95
Curry (Medium) Prawns
With basic spices with plenty of sauce
£6.15
Curry (Medium) Chicken
With basic spices with plenty of sauce
£6.45
Curry (Medium) Paneer
With basic spices with plenty of sauce
£6.45
Curry (Medium) Lamb
With basic spices with plenty of sauce
£6.95
Curry (Medium) Chicken Tikka
With basic spices with plenty of sauce
£7.25
Curry (Medium) Lamb Tikka
With basic spices with plenty of sauce
£7.55
Curry (Medium) King Prawns
With basic spices with plenty of sauce
£9.95
Madras Mushrooms
With basic spices with plenty of sauce
£5.95
Madras Vegetables
With basic spices with plenty of sauce
£5.95
Madras Prawns
With basic spices with plenty of sauce
£6.15
Madras Chicken
With basic spices with plenty of sauce
£6.45
Madras Paneer
With basic spices with plenty of sauce
£6.45
Madras Lamb
With basic spices with plenty of sauce
£6.95
Madras Chicken Tikka
With basic spices with plenty of sauce
£7.25
Madras Lamb Tikka
With basic spices with plenty of sauce
£7.55
Madras King Prawns
With basic spices with plenty of sauce
£9.95
Vindaloo Mushrooms
With basic spices with plenty of sauce
£5.95
Vindaloo Vegetables
With basic spices with plenty of sauce
£5.95
Vindaloo Prawns
With basic spices with plenty of sauce
£6.15
Vindaloo Chicken
With basic spices with plenty of sauce
£6.45
Vindaloo Paneer
With basic spices with plenty of sauce
£6.45
Vindaloo Lamb
With basic spices with plenty of sauce
£6.95
Vindaloo Chicken Tikka
With basic spices with plenty of sauce
£7.25
Vindaloo Lamb Tikka
With basic spices with plenty of sauce
£7.55
Vindaloo King Prawns
With basic spices with plenty of sauce
£9.95
Bhuna Mushrooms
A drier than usual curry packed with spicy flavour
£5.95
Bhuna Vegetables
A drier than usual curry packed with spicy flavour
£5.95
Bhuna Prawns
A drier than usual curry packed with spicy flavour
£6.15
Bhuna Chicken
A drier than usual curry packed with spicy flavour
£6.45
Bhuna Paneer
A drier than usual curry packed with spicy flavour
£6.45
Bhuna Lamb
A drier than usual curry packed with spicy flavour
£6.95
Bhuna Chicken Tikka
A drier than usual curry packed with spicy flavour
£7.25
Bhuna Lamb Tikka
A drier than usual curry packed with spicy flavour
£7.55
Bhuna King Prawns
A drier than usual curry packed with spicy flavour
£9.95
Korma Mushrooms
Cooked with cream & coconut to produce a very mild dish
£5.95
Korma Vegetables
Cooked with cream & coconut to produce a very mild dish
£5.95
Korma Prawns
Cooked with cream & coconut to produce a very mild dish
£6.15
Korma Chicken
Cooked with cream & coconut to produce a very mild dish
£6.45
Korma Paneer
Cooked with cream & coconut to produce a very mild dish
£6.45
Korma Lamb
Cooked with cream & coconut to produce a very mild dish
£6.95
Korma Chicken Tikka
Cooked with cream & coconut to produce a very mild dish
£7.25
Korma Lamb Tikka
Cooked with cream & coconut to produce a very mild dish
£7.55
Korma King Prawns
Cooked with cream & coconut to produce a very mild dish
£9.95
Dansak Mushrooms
A Parsee dish, hot, sweet & sour with a lentil base sauce
£5.95
Dansak Vegetables
A Parsee dish, hot, sweet & sour with a lentil base sauce
£5.95
Dansak Prawns
A Parsee dish, hot, sweet & sour with a lentil base sauce
£6.15
Dansak Chicken
A Parsee dish, hot, sweet & sour with a lentil base sauce
£6.45
Dansak Paneer
A Parsee dish, hot, sweet & sour with a lentil base sauce
£6.45
Dansak Lamb
A Parsee dish, hot, sweet & sour with a lentil base sauce
£6.95
Dansak Chicken Tikka
A Parsee dish, hot, sweet & sour with a lentil base sauce
£7.25
Dansak Lamb Tikka
A Parsee dish, hot, sweet & sour with a lentil base sauce
£7.55
Dansak King Prawns
A Parsee dish, hot, sweet & sour with a lentil base sauce
£9.95
Rogan Josh Mushrooms
A medium dish cooked with green herbs, plum tomatoes, in a rich sauce
£5.95
Rogan Josh Vegetables
A medium dish cooked with green herbs, plum tomatoes, in a rich sauce
£5.95
Rogan Josh Prawns
A medium dish cooked with green herbs, plum tomatoes, in a rich sauce
£6.15
Rogan Josh Chicken
A medium dish cooked with green herbs, plum tomatoes, in a rich sauce
£6.45
Rogan Josh Paneer
A medium dish cooked with green herbs, plum tomatoes, in a rich sauce
£6.45
Rogan Josh Lamb
A medium dish cooked with green herbs, plum tomatoes, in a rich sauce
£6.95
Rogan Josh Chicken Tikka
A medium dish cooked with green herbs, plum tomatoes, in a rich sauce
£7.25
Rogan Josh Lamb Tikka
A medium dish cooked with green herbs, plum tomatoes, in a rich sauce
£7.55
Rogan Josh King Prawns
A medium dish cooked with green herbs, plum tomatoes, in a rich sauce
£9.95
Pathia Mushrooms
Sweet & sour taste, cooked with onions, garlic, tomato puree, slightly spicy
£5.95
Pathia Vegetables
Sweet & sour taste, cooked with onions, garlic, tomato puree, slightly spicy
£5.95
Pathia Prawns
Sweet & sour taste, cooked with onions, garlic, tomato puree, slightly spicy
£6.15
Pathia Chicken
Sweet & sour taste, cooked with onions, garlic, tomato puree, slightly spicy
£6.45
Pathia Paneer
Sweet & sour taste, cooked with onions, garlic, tomato puree, slightly spicy
£6.45
Pathia Lamb
Sweet & sour taste, cooked with onions, garlic, tomato puree, slightly spicy
£6.95
Pathia Chicken Tikka
Sweet & sour taste, cooked with onions, garlic, tomato puree, slightly spicy
£7.25
Pathia Lamb Tikka
Sweet & sour taste, cooked with onions, garlic, tomato puree, slightly spicy
£7.55
Pathia King Prawns
Sweet & sour taste, cooked with onions, garlic, tomato puree, slightly spicy
£9.95
Jalfrezi Mushrooms
Cooked with capsicum & onion in a spicy sauce with green chillies
£5.95
Jalfrezi Vegetables
Cooked with capsicum & onion in a spicy sauce with green chillies
£5.95
Jalfrezi Prawns
Cooked with capsicum & onion in a spicy sauce with green chillies
£6.15
Jalfrezi Chicken
Cooked with capsicum & onion in a spicy sauce with green chillies
£6.45
Jalfrezi Paneer
Cooked with capsicum & onion in a spicy sauce with green chillies
£6.45
Jalfrezi Lamb
Cooked with capsicum & onion in a spicy sauce with green chillies
£6.95
Jalfrezi Chicken Tikka
Cooked with capsicum & onion in a spicy sauce with green chillies
£7.25
Jalfrezi Lamb Tikka
Cooked with capsicum & onion in a spicy sauce with green chillies
£7.55
Jalfrezi King Prawns
Cooked with capsicum & onion in a spicy sauce with green chillies
£9.95
Dopiaza Mushrooms
An elegant dish cooked with lots of onions in a spicy sauce with green chillies
£5.95
Dopiaza Vegetables
An elegant dish cooked with lots of onions in a spicy sauce with green chillies
£5.95
Dopiaza Prawns
An elegant dish cooked with lots of onions in a spicy sauce with green chillies
£6.15
Dopiaza Chicken
An elegant dish cooked with lots of onions in a spicy sauce with green chillies
£6.45
Dopiaza Paneer
An elegant dish cooked with lots of onions in a spicy sauce with green chillies
£6.45
Dopiaza Lamb
An elegant dish cooked with lots of onions in a spicy sauce with green chillies
£6.95
Dopiaza Chicken Tikka
An elegant dish cooked with lots of onions in a spicy sauce with green chillies
£7.25
Dopiaza Lamb Tikka
An elegant dish cooked with lots of onions in a spicy sauce with green chillies
£7.55
Dopiaza King Prawns
An elegant dish cooked with lots of onions in a spicy sauce with green chillies
£9.95
Karahi Mushrooms
Cooked with onions, green peppers
£5.95
Karahi Vegetables
Cooked with onions, green peppers
£5.95
Karahi Prawns
Cooked with onions, green peppers
£6.15
Karahi Chicken
Cooked with onions, green peppers
£6.45
Karahi Paneer
Cooked with onions, green peppers
£6.45
Karahi Lamb
Cooked with onions, green peppers
£6.95
Karahi Chicken Tikka
Cooked with onions, green peppers
£7.25
Karahi Lamb Tikka
Cooked with onions, green peppers
£7.55
Karahi King Prawns
Cooked with onions, green peppers
£9.95
Pasanda Mushrooms
Cooked with fresh cream, coconut & yoghurt
£5.95
Pasanda Vegetables
Cooked with fresh cream, coconut & yoghurt
£5.95
Pasanda Prawns
Cooked with fresh cream, coconut & yoghurt
£6.15
Pasanda Chicken
Cooked with fresh cream, coconut & yoghurt
£6.45
Pasanda Paneer
Cooked with fresh cream, coconut & yoghurt
£6.45
Pasanda Lamb
Cooked with fresh cream, coconut & yoghurt
£6.95
Pasanda Chicken Tikka
Cooked with fresh cream, coconut & yoghurt
£7.25
Pasanda Lamb Tikka
Cooked with fresh cream, coconut & yoghurt
£7.55
Pasanda King Prawns
Cooked with fresh cream, coconut & yoghurt
£9.95
Malaya Mushrooms
Cooked with fresh cream, almond powder, coconut & pineapple
£5.95
Malaya Vegetables
Cooked with fresh cream, almond powder, coconut & pineapple
£5.95
Malaya Prawns
Cooked with fresh cream, almond powder, coconut & pineapple
£6.15
Malaya Chicken
Cooked with fresh cream, almond powder, coconut & pineapple
£6.45
Malaya Paneer
Cooked with fresh cream, almond powder, coconut & pineapple
£6.45
Malaya Lamb
Cooked with fresh cream, almond powder, coconut & pineapple
£6.95
Malaya Chicken Tikka
Cooked with fresh cream, almond powder, coconut & pineapple
£7.25
Malaya Lamb Tikka
Cooked with fresh cream, almond powder, coconut & pineapple
£7.55
Malaya King Prawns
Cooked with fresh cream, almond powder, coconut & pineapple
£9.95
Any Other Sauce Curry (Medium)
£2.45
Any Other Sauce Jalfrezi (Hot)
£2.45
Any Other Sauce Pathia (Hot)
£2.45
Any Other Sauce Rogan Josh
£2.45
Meal For Two
Poppadoms & pickle tray
Starter:
Mixed kebab
Onion bhaji
Mains:
Chicken tikka masala
Lamb karahi
Pilu rice & plain naan
£23.95
Meal For Four
Poppadoms & pickle tray
Starter:
Chicken tikka
Seekh kebab
Meat samosa
Onion bhaji
Mains:
Chicken tikka balti
Chicken tikka masala
lamb karahi
Prawn bhuna
2 pilau rice & 2 plain naan
£44.95
Contact Us
Find Us
11 Swan Street, Loughborough, LE115BJ